Naturally Splendid Enterprises Ltd. ("Naturally Splendid" or "NSE") (TSXV:NSP) (OTCQB:NSPDF) (Frankfurt:50N) is pleased to learn that Protein Industries Canada (PIC) has received funding from Canada's federal department of Innovation, Science and Economic Development. PIC, as one of the successful industry "Superclusters", will receive a portion of the $950 million allocated to this important, innovative initiative.
Naturally Splendid is pleased to be one of the core supporters of this program which will potentially open the doors for collaborative partnerships in ground breaking development of proprietary ingredients such as NSE's HempOmega(TM) and protein isolate. Based on our company's initial commitment over the next five years, NSE could be eligible for matching funding of up to $2.5 million. By leveraging that with funds and technologies from other PIC participants, the impact to our company and our industry could be magnified significantly.
---
Naturally Splendid Director and Canadian Hemp Trade Alliance President Mr. Russ Crawford states, "The selection of the Protein Supercluster by the federal government represents a huge growth opportunity for western Canadian agricultures under developed value-added sector. The Canadian Hemp Trade Alliance and Naturally Splendid Enterprises are very excited about the implications for the hemp industry, as 100% of our hemp production is already processed prior to export. The value-added potential and market growth this funding represents will catapult the hemp industry due to its comparatively high-quality ingredient profile"
Naturally Splendid CEO Mr. Douglas Mason states, "Naturally Splendid has positioned our company to be an ingredient supplier of plant-based protein and omega products including cannabis extracts such as CBD. We are on the leading edge of scientific development of food fractionation and ingredient optimization and look forward to expanding the development of our Intellectual Property through this program. Our company is a very good fit with the PIC initiative in the area of Process Technology Innovation. The success of the PIC supercluster application, and our small role in its execution, could mean significant growth for our company. By having a diversified strategic plan that includes opportunities outside the cannabis space, we in fact create more opportunities for the Company while waiting for cannabis regulations to positively evolve in Canada and globally."
"The target markets presented in the PIC application align perfectly with NSE's product development strategy," states NSE VP of Product Development, Bryan Carson. "Our product mix includes the four key markets of Food & Beverages, Infant Formulations, Personal Care & Cosmetics and Animal Feed. In addition, we are targeting Personal Health and Wellness and Senior's Formulations."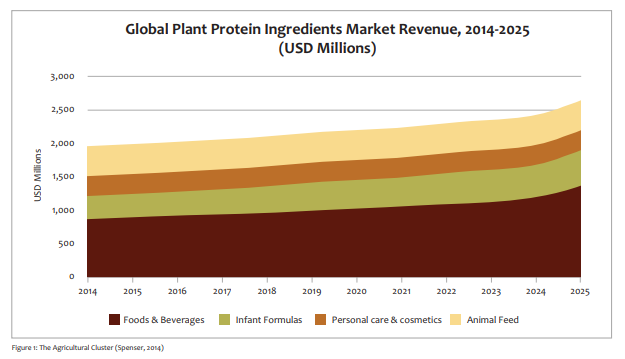 Click Image To View Full Size
The Protein Industry Canada website states, "Plant-based protein is a $13 billion market opportunity. Outcomes from this cluster will be a new range of plant-derived foods, ingredients and feedstuffs of superior quality, commanding market premiums.
PIC projects the global population to reach 9.8 billion people by 2050 with the largest growth in the middle class. This growing sector of more affluent consumers are looking for more plant-based protein in their diet. They also want sustainable and environmentally friendly sources of food.
The development of a "Silicon Valley for plant-based protein" in western Canada represents the potential for $40 billion in investment, 40,000 direct jobs and 120,000 indirect jobs.
About Protein Industries Canada
[ANNOTATION:
BY 'Russ Crawford'
ON '2018-02-19T14:55:00'RC
NOTE: 'Can you fix the justification in the last line?']Protein Industries Canada (PIC) is an industry-led value chain consortium of small- to large-sized enterprises involved in food and food ingredient manufacturing, agriculture and food-related services, research and development, technology, economic development, finance and investment, education and training.
PIC is a not-for-profit corporation guided by a board comprising industry leaders and supported by Ag-West Bio and regional partners.
Vision: "To position Canada globally as a leading source of high-quality plant protein and plant-based co-products, developed in a carbon neutral production environment, while substantially contributing to Canada's economic growth and international trade balance."
Mission: "To mobilize Canada's innovation and commercial cluster to collaborate in support of industry driven market priorities and needs."
About Naturally Splendid Enterprises Ltd.
Naturally Splendid is a biotechnology and consumer products company that is developing, producing, commercializing, and licensing an entirely new generation of plant-derived, bioactive ingredients, nutrient dense foods, and related products. Naturally Splendid is building an expanding portfolio of patents (issued and pending) and proprietary intellectual property focused on the commercial uses of industrial hemp and non-psychoactive cannabinoid compounds in a broad spectrum of applications.
Naturally Splendid currently has four innovative divisions:
(1)BIOTECHNOLOGY – Focused on three major platforms:
(1)Proprietary HempOmega(TM) encapsulation
(2)Extraction and formulation with Cannabidiol (CBD)
(3)Hemp and plant-based proteins.
(2) CONSUMER PRODUCTS –
– NATERA(R) – brand of retail hemp and superfood products distributed throughout North America, Asia and Europe.
– Prosnack Natural Foods Inc. (Elevate Me(TM)) – lifestyle brand of healthy meal replacement products distributed throughout North America.
– Chi Hemp Industries Incorporated (CHII) – e-commerce platform for natural and organic hemp products.
– PawsitiveFX(R) – topical pet care products.
– NATERA(R)CBD – retail hemp-based cannabinoid nutraceutical and cosmeceutical products distributed in Asia.
– NATERA(R)Skincare – brand of retail hemp based cosmeceutical products.
(3) NATERA(R) Ingredients – bulk ingredients including HempOmega(TM).
(4) Co-Packaging/Toll-Processing – packaging for house-brands (NATERA(R) and CHII) and third-party partners.
For more information e-mail info@naturallysplendid.com or call Investor Relations at 604-673-9573
On Behalf of the Board of Directors
Mr. Doug Mason
CEO, Director
Contact Information
Naturally Splendid Enterprises Ltd.
(NSP – TSX Venture; NSPDF – OTCQB; 50N Frankfurt)
#108-19100 Airport Way
Pitt Meadows, BC, V3Y 0E2
Office: (604) 465-0548
Fax: (604) 465-1128
E-mail: info@naturallysplendid.com
Website: www.naturallysplendid.com
Forward-Looking Statements
Information set forth in this news release contains forward-looking statements that are based on assumptions as of the date of this news release. These statements reflect management's current estimates, beliefs, intentions and expectations. They are not guarantees of future performance. Naturally Splendid cautions that all forward looking statements are inherently uncertain and that actual performance may be affected by a number of material factors, many of which are beyond Naturally Splendid's control including, Naturally Splendid's ability to complete the acquisition of Prosnack, complete all or any of the proposed private placement financing, Naturally Splendid's ability to compete with large food and beverage companies; sales of any potential products developed will be profitable; sales of shelled hemp seed will continue at existing rates or increase; the ability to complete the sales of all bulk hemp seed purchase orders; and the risk that any of the potential applications may not receive all required regulatory or legal approval. Accordingly, actual and future events, conditions and results may differ materially from the estimates, beliefs, intentions and expectations expressed or implied in the forward-looking information. Except as required under applicable securities legislation, Naturally Splendid undertakes no obligation to publicly update or revise forward-looking information.
NEITHER TSX VENTURE EXCHANGE NOR ITS REGULATION SERVICES PROVIDER (AS THAT TERM IS DEFINED IN THE POLICIES OF THE TSX VENTURE EXCHANGE) ACCEPTS RESPONSIBILITY FOR THE ADEQUACY OR ACCURACY OF THIS RELEASE.
Click here to connect with Naturally Splendid (TSXV:NSP) for an Investor Presentation.
Source: www.thenewswire.com